Bitcoin changed many people's lives, including our own. We wanted to mark bitcoin's ten year anniversary the best way we know how: with custom hardware. Without worrying about cost or manufacturability, we created hardware that we would want to stare at ourselves, all day long.
We also wanted to make a product that really represents bitcoin. So, in the spirit of scarcity, we will make only 500 serialized units. Introducing the BlockClock: an electro-mechanical display.
"If you don't believe it or don't get it, I don't have the time to try to convince you, sorry." - Satoshi Nakamoto.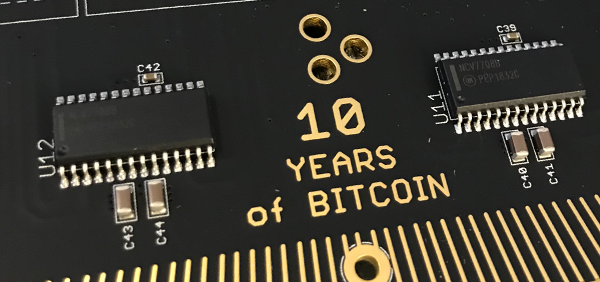 What do I get? [buy]
The Block Clock
Serialized on the back
Remote control
Custom made frame
Power Supply
Free shipping
Specs
We will only ever make 500 production units and each carries a unique serial number. Order now to get the low numbers!
They will be assembled in batches of 25. Individually soldered, inspected and hand assembled.
No costs were spared on parts and materials.
Comprehensive web UI for configuration, hosted on the BlockClock itself.
Electrum blockchain data can be displayed: height, merkel root, etc.
Multiple exchange data sources, and all their end points for pairs, daily volume, etc.
Enter simple python expressions for advanced calculations and your own personal metrics.
Custom API for your own data sources.
Multiple animation modes, including our favourite: 'party mode'
21 profiles for 4 pages. Can cycle through the pages, or use the remote control to pick.
Bluetooth remote included (3 buttons with 1 mute button)
Canadian Maple hand-made frame with museum-grade polycarbonate front.
24x electro-mechanical 7-segment displays plus 6 color flip-dots.
Extra thick premium PCB, gold plated traces.
Power supply included (world voltages, and plugs).
Free shipping word-wide
Ethernet, Bluetooth and WiFi enabled
Web UI and fully customizable for your needs
Limited run with numbered markings on the back
Frame: 13.5x9.5x3" (approx)